D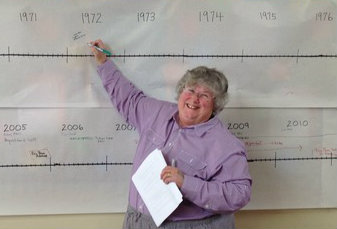 ear Ones,
As I said in my final sermon, everyone at DUUF and in Denton extended such radical hospitality to me this year that my heart overflows! The affection and respect I have for you as individuals and as a congregation is deep and abiding.
I want to say something about one of my internship projects, the historical timeline we created together a few months ago. While the project revealed many interesting things about the 60+ years of the Fellowship, the most striking to me was how "young" the congregation is now, in terms of peoples' associations with DUUF, or even with Unitarian Universalism at all. Our study revealed that barely 1/4
th
of the current members have been part of the congregation for more than ten years, and 57% joined in only the last three.
This relative "youth" of the congregation is both exciting and a little worrisome. On the one hand, the enthusiasm and energy new members bring is something many churches would surely envy. Indeed, there is a buzz in the air at DUUF that whispers promises of amazing things to come in the next few years!
On the other hand, the newness of most to Unitarian Universalism, and perhaps to serious involvement in any kind of organized religion, means many of your members and friends are inexperienced at how to "do" church. In addition to taking advantage of the leadership development opportunities our UU cluster and region offer, I urge you to seek the wisdom lay "elders" can offer and respect the expertise your professional leaders bring.
Most of all, however, I hope you will continue steadfast in your quest to be, as I said last Sunday, as radically hospitable to the stranger, the newcomer and, especially, to each other, as you were to me this year. If you can do that, the sky is the limit at the Denton Unitarian Universalist Fellowship!
Many thanks for allowing me to be a part of your Beloved Community for a time,
Scottie
P.S. According to UUA guidelines, "it is customary for the intern not to maintain any contact with members of the teaching site for at least a year." After much thought as to how to comply with this in terms of
facebook
, I have decided to heed advice to "unfriend" folks I came to know through DUUF. Please know that I still care about you and look forward to Summer 2014, when I will happily confirm your "friend requests" again!